Metadata For 189 Manuscripts From Benediktinerabtei Sankt Georgenberg Fiecht Added To HMML Reading Room
Collections News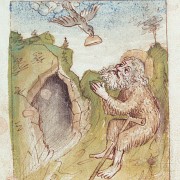 Metadata for 189 manuscripts from Benediktinerabtei Sankt Georgenberg-Fiecht added to HMML Reading Room
Posted: 2021-04-08
The original religious community on St. Georgenberg, a 300-foot cliff near Stans on the Inn in Austria, is traditionally believed to have been founded by a certain Rathold von Aibling in Bayern, who died perhaps in the middle of the tenth century. An early benefactor was St. Albuin, bishop of Saben-Brixen (reigned approximately 977-1005 or 1006), whose donation of two properties is the earliest recorded gift to the community. The community was established as a Benedictine monastery in 1138 (closed in 1807-1816 and again in 1941-1945). After a devastating fire in 1705, the community moved to Fiecht where it remained from 1708 to 2019, and it has very recently moved back to its original site at Sankt Georgenberg near Fiecht.
Although the monastery at one time owned manuscripts dating back to the 8th century, today's oldest holdings come from the 12th century. Numerous manuscripts from Sankt Georgenberg are in the British Library today. The 189 manuscripts microfilmed by HMML include historical records of the monastery and other manuscripts from the 12th century to 18th century. The metadata for these manuscripts is now available online in Reading Room. View now
Additionally, the HMML-produced catalog is available online for free from archive.org at https://archive.org/details/HMMLAustriaInventory2.
Image caption: HMML28801 (Georgenberg 133) - Illustration of St. Paul the Hermit, called the first monk