HMML & Syriac Manuscripts — New Exhibition In HMML's Reading Room
August 3, 2016
HMML & Syriac Manuscripts — New Exhibition in HMML's Reading Room
​In 1715, Giuseppe Simone Assemani, then a titular bishop of Tyre, a Maronite scholar and librarian, departed Rome on a quest: he was searching for valuable manuscripts to add to the Vatican Library. He spent two years traveling, visiting Wadi al-Natrun and Cairo in Egypt, Damascus, and Lebanon, acquiring manuscripts and learning about the cultures that created them.Assemani's expedition netted hundreds of manuscripts for the Vatican Library. He also produced the 1719 multi-volume book Bibliotheca orientalis Clementino-vaticana, a reference tome that not only cataloged the manuscripts he collected, but described their contents, the various languages and traditions present and how to interpret them. And, nearly 300 years later, the book remains the main reference book on the Vatican Syriac manuscript collection, while also becoming an artifact itself.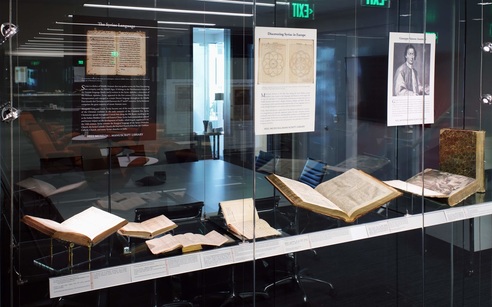 Visitors to the Hill Museum & Manuscript Library (HMML) at Saint John's University can see two original volumes of Assemani's book, along with other artifacts, in a new exhibition of Syriac manuscripts, traditions and culture.
Syriac Christianity dates back to the 1st century A.D. The Syriac language is a rich dialect of Middle Aramaic that was spoken across the Near East during late antiquity and the Middle Ages. During this time, the Syriac Christians authored an abundance of manuscripts pertaining to history, science, literature, philosophy and religion.
"Preserving the linguistic and liturgical traditions of the Syriac Christians became a priority for HMML in 2006, when globalization, wars and religious intolerance began to threaten historic Syriac Christian communities in the Middle East and India," said Fr Columba Stewart, OSB, executive director of HMML. "By digitizing, cataloging and archiving these unique witnesses to human creativity and cultural identity, HMML is keeping the Syriac language, literary and liturgical traditions and histories alive and accessible forever."
Since 2003, HMML has digitized over 13,500 manuscripts belonging to Syriac communities in Lebanon, Syria, Turkey, Iraq, and India. The current exhibition includes over a dozen rare books and manuscripts, including a manuscript fragment from the 9th Century, an Ottoman pen case and inkwell from Damascus and a 21st Century prayer stole from Kerala, India.
"Preserving the linguistic and liturgical traditions of the Syriac Christians became a priority for HMML in 2006"

- Fr Columba Stewart, OSB, executive director of HMML
The exhibit is free and open to the public in HMML's Reading Room through September 2016. Due to the renovation of the adjacent Alcuin Library, HMML is currently only accessible via stairs. Those wanting more information about visiting HMML should visit www.hmml.org or call 320-363-3514.
The Hill Museum & Manuscript Library's mission is to identify, digitally photograph, catalog and archive endangered manuscripts belonging to threatened communities around the world. Having formed partnerships with over 540 libraries and archives, HMML has photographically preserved over 140,000 manuscripts from Europe, Africa, the Middle East and India.
HMML is currently preserving manuscript collections in many global sites, including Lebanon, Iraq, Jerusalem, Egypt, Mali and Malta. These resources are available through HMML's legacy catalog, OLIVER; image database, Vivarium; and the recently launched vHMML, at www.vhmml.org, HMML's new online environment for manuscript research. See more at www.hmml.org. ​