January 8, 2020
New Faces at HMML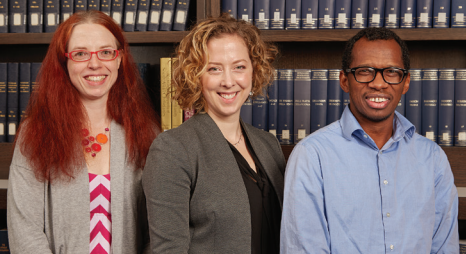 In October, HMML welcomed Dr. Heinin Ali Diakite as its new Associate Cataloger for West African Manuscripts. Diakite was born in Burkina Faso and later moved to Bamako, the capital of Mali, to join the Université de Bamako Department of Arabic Studies. During his PhD work, his research on west African intellectual life in the 19th century brought him to the great libraries of Timbuktu to study their manuscripts. As a scholar and native speaker of Arabic, Fulfulde, and Bambara, Diakite brings his skills and knowledge of these texts to HMML. Diakite is part of an international community of scholars who are shaping the field of West African manuscript studies and standardizing metadata for authors, titles, and Arabic scripts unique to this tradition. His cataloging work will allow the hundreds of thousands of Timbuktu manuscripts digitized by HMML to be shared online at vHMML.org.
Dr. Catherine Walsh joined HMML in November as its new Metadata Librarian. Walsh worked previously as a librarian, archivist, and cataloger for the Ruth Lilly Special Collections and Archives and the Center for Ray Bradbury Studies in Indianapolis, Indiana. She has an MLIS from Indiana University, Indianapolis and a PhD in Art History from the University of Delaware in 19th-century American art. Walsh will work with HMML's growing team of catalogers to standardize HMML's manuscript metadata so that such things as authors, titles, and locations comply with existing international standards. She will work with the Library of Congress to establish official recognition of eastern Christian and Islamic authors and titles from understudied manuscript traditions—the core of HMML's growing collection.
HMML is also excited to welcome Katrina Schlude as its new Director of Advancement. Schlude leads all aspects of HMML's development efforts including fundraising, constituent engagement, and the promotion of HMML's mission and work. Schlude, who joined the team in November, has extensive leadership experience working in nonprofit organizations. She most recently served as Executive Director and Head of School at Children's Workshop Montessori in the Twin Cities, where she led a staff of 28 and was responsible for all aspects of development and fundraising. Schlude completed a certificate program in fundraising at the Opus College of Business at the University of St. Thomas. She has an MS degree in Education from Duquesne University and a BA degree in Studio Arts and Classics from Macalester College. Her development work supports HMML's mission and allows HMML to continue its work into the future.