Council Of The British Academy Bestows Edward Ullendorff Medal Upon Getatchew Haile
July 22, 2013
Council of the British Academy Bestows Edward Ullendorff Medal Upon Getatchew Haile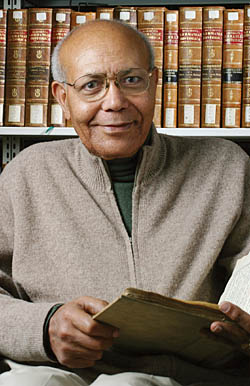 The Council of the British Academy has bestowed the Edward Ullendorff Medal upon Dr. Getatchew Haile, FBA. At the Hill Museum & Manuscript Library (HMML), Getatchew is cataloger emeritus and long-time curator of the Ethiopia Study Center, as well as emeritus Regents Professor of Medieval Studies at Saint John's University, Collegeville, Minnesota.
Getatchew studied theology at the Coptic Theological College, Cairo (B.A., 1957); social sciences at the American University, also in Cairo (B.A., 1957); and Semitic philology at the Eberhard-Karls-Univertitat Tubingen, Germany (Ph.D., 1962).
After teaching for over 10 years at the Haile Sellassie I (now Addis Ababa) University in Addis Ababa, Ethiopia, Getatchew and his family moved to Minnesota in 1976. He has published several catalogues of Ethiopic manuscripts on microfilm, books, and many articles on Ethiopian studies both in English and Amharic, his native language. His latest book is an Amharic autobiography, Andafta Lawgachihu, which appeared in 2008. Getatchew is a corresponding fellow of the British Academy, winner of the MacArthur Foundation Award, member of the Academy of Social Sciences of Addis Ababa University, and a member of the editorial boards of several international scholarly journals. His participation in international conferences has led him to visit several countries in Europe, the Middle East and Africa.
"I am most grateful to be recognized for whatever I have accomplished in my research and writings. However, I must share this award with all who have taken this journey with me: the staff at HMML and Saint John's University, the many colleagues with whom I have collaborated, the students and scholars I have taught, and of course, my family," said Getatchew.
First awarded in 2012, the Edward Ullendorff Medal is awarded for scholarly distinction and achievements in the field of Semitic languages or Ethiopian studies. Ullendorff (1920-2011) was a fellow of the British Academy from 1965 until 2011 and a professor emeritus of the Semitic languages and of Ethiopian studies at the School of Oriental and African Studies, University of London.
"Getatchew Haile is a rare example of a scholar who has encyclopedic knowledge of his field combined with humility and kindness," said HMML executive director Father Columba Stewart, OSB. "His cataloging and critical studies have defined the field of Ge'ez literature and inspired hundreds of scholars around the world. At HMML he has been an example and guide for decades. All of us are delighted at this well-deserved recognition by his scholarly peers."