Hill Museum & Manuscript Library Awarded $4 Million Grant From Arcadia Fund
September 21, 2015
Hill Museum & Manuscript Library Awarded $4 Million Grant from Arcadia Fund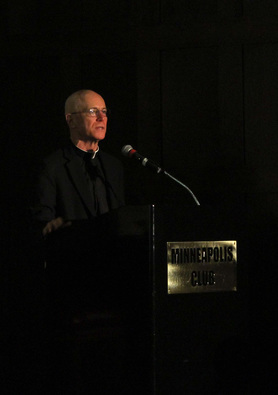 Arcadia Fund has awarded a $4 million grant to the Hill Museum & Manuscript Library (HMML) at Saint John's University. This is the single-largest gift to the organization in its 50-year history.
Rev. Columba Stewart, OSB, executive director of HMML, says the gift will support HMML's digitization, archiving and cataloging of endangered manuscript collections through 2021. In addition, Arcadia's funding will make these digitized materials freely available to worldwide users through HMML's online Reading Room, which will launch in early 2016. Photographic manuscript preservation is HMML's core mission. Since 2003, HMML teams have traveled to the Middle East, Africa and India to create high-quality digital surrogates of endangered religious and other historic manuscripts. In recent years, HMML has been actively engaged in digital preservation fieldwork in Syria, Iraq and with the Timbuktu manuscripts of Mali.
"As the Islamic State escalates its war on culture, HMML's manuscript preservation mission has never been more urgent," Stewart said.
"Thousands of precious manuscripts have been destroyed in Iraq alone. In addition to threats from extremist groups, traditional communities are threatened by emigration and rapid political and economic change, placing centuries-old manuscript collections at risk. Arcadia's support means the contents of thousands of unique, handwritten books will now be preserved in high-quality digital form for future generations," Stewart said.
Some of these manuscripts date back to the first millennium, and many of them have been previously unknown to western scholars.
"Many of these works document the dialogue and debate between Christians and Muslims," Stewart said. "This valuable evidence about historic modes of cultural engagement can inform the decisions we make today about dialogue among different religions and peoples."
This is the second major grant HMML has received from Arcadia. A $3 million grant was awarded in 2011 and was designated for manuscript preservation over a five-year period.
Arcadia is the charitable fund of Peter Baldwin and Lisbet Rausing. Arcadia supports charities and scholarly institutions that preserve cultural heritage and the environment, and promote open access. Since its inception in 2002, Arcadia has awarded more than $331 million in grants.
HMML is currently preserving manuscript collections at sites in Lebanon, Iraq, the Old City of Jerusalem, Egypt, Mali and Malta. The soon-to-be launched vHMML will provide access for scholars throughout the world to the digital images and related cataloging. Since its founding in 1965, HMML has formed partnerships with over 520 libraries and archives to photograph more than 145,000 manuscripts from Europe, Africa, the Middle East and India.