"hmml@home" — A New Way To Stay Connected
April 27, 2020
"HMML@Home" — A New Way to Stay Connected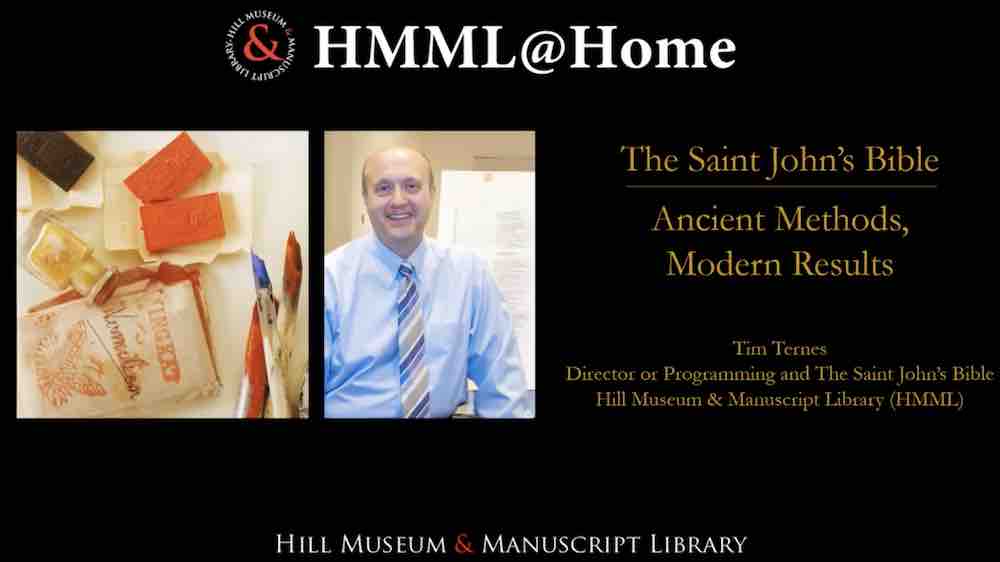 While many of us are spending more time at home these days, much of HMML's work and resources remain accessible to anyone with an internet connection.
HMML curators are continuing to work from home through the current global pandemic, and they continue to engage with scholars from around the world in understanding and navigating their collections. To help bring inspiring programming to a global audience, HMML sharing a new video series – HMML@HOME. These short episodes, focused on curators and scholars discussing HMML rare book and art objects and vHMML.org digital collection items are archived and available on HMML's YouTube channel.
The series airs weekly on Wednesdays at 1pm US Central Daylight Time, and began on April 8 with a conversation with Matthew Heintzelman, HMML's Curator of Western Collections and Rare Books. The first episodes examined how medieval Christians used manuscripts to mark time and organize their devotional day. 'Structuring the Hours of Your Day: Breviaries, Books of Hours, and the Divine Office' includes five episodes exploring these beautifully decorated books and how they were used centuries ago. On May 13, Tim Ternes, Director of Programming and The Saint John's Bible at HMML, began a series called 'Ancient Methods, Modern Results' discussing the tools, methods and materials used in creating medieval and modern handwritten manuscripts. Upcoming episodes also include tutorials on 'How to Read a Print' by Arca Artium registrar, Katherine Goertz. HMML will continue to create new and engaging programs like these so that everyone will have the chance to learn more about the cultural heritage in its collections and HMML's continuing work to preserve and share it with the world.