HMML Staff Make Scholarly Impact
November 1, 2019
HMML Staff Make Scholarly Impact
The staff at HMML continue to contribute broadly to the fields of history, cultural studies, and manuscript studies. Fr. Columba is a Phi Beta Kappa Scholar for the 2019-2020 academic year, which involves visits to six colleges and universities throughout the year, including a major lecture, class visits and meetings with faculty and students. He has already conducted visits to Saint Michael's College (Vermont), Queens College (of the City University of New York), and Fordham University (Bronx, New York) and will visit Louisiana State University, the American and Catholic Universities, and Valparaiso University in the spring. Fr. Columba was also the keynote speaker at the North American Syriac Symposium at Brown University in June, delivering his address on HMML's preservation work, titled "Discovering a new World in the Old: Revealing, Preserving, and Sharing the Syriac Manuscript Heritage in the Near East." Dr. David Calabro (pictured) also attended, giving a talk titled, "The Social Context of Syriac Amulets in the Eighteenth and Nineteenth Centuries" drawn from his research on HMML's digital collection of Syriac manuscripts.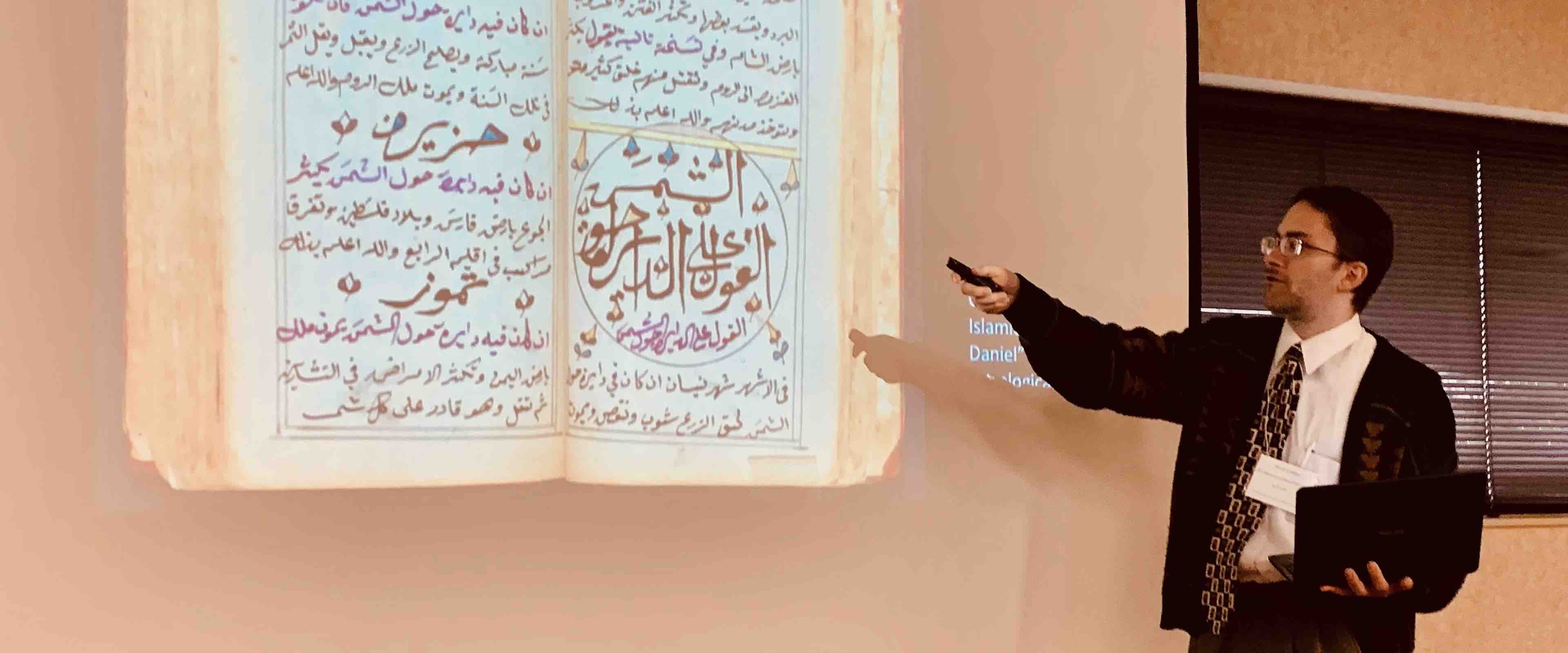 In October, Dr. Daniel Gullo, Joseph S. Micallef Curator of the Malta Study Center (MSC), cosponsored a two-day Mediterranean Seminar workshop with the University of Toronto exploring violence in the Mediterranean world. In September, Dr. Gullo joined HMML staff members, MSC Archivist Dr. Valeria Vanesio, and HMML Systems Librarian John Meyerhofer at the Digital Scriptorium meeting at the Newberry Library in Chicago. They brought their expertise in digital humanities to conversations regarding revisions to the Digital Scriptorium, a digital library that aims to gather images of medieval manuscripts from all North American collections.
Dr. Melissa Moreton, Assistant Director of Strategic Initiatives, recently presented at the Medieval Ethiopia conference at the University of Toronto, highlighting HMML's half-century of work imaging thousands of manuscripts across Ethiopia. In June, HMML hosted the Medieval Manuscript Research Lab (MMRL), a multi-day workshop training University of Minnesota graduate students in the skills they need to study medieval and early modern texts. Students made goatskin parchment by hand, learning about the materiality of manuscript codicology (the study of the physical aspects of manuscripts), manuscript typology, and Diplomatics (the study of document creation and transmission).
ABOUT THE AUTHOR: Dr. Melissa Moreton was assistant director for strategic initiatives at HMML from 2018 to 2020.