Innovative Manuscript Research Tool On vHMML Now Available
August 29, 2016
Innovative Manuscript Research Tool on vHMML Now Available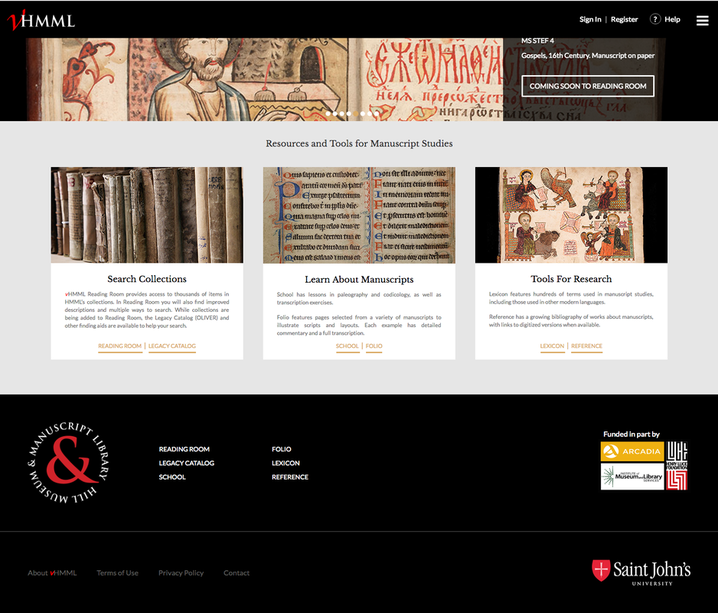 vHMML Reading Room is now live! vHMML Reading Room will be a game-changing research tool for anyone interested in manuscript studies, including bibliophiles, students, or scholars who use manuscripts for academic study.
The initial collections available on vHMML Reading Room include representative samples of HMML's vast microfilm and digital resources, including images from Malta, Iraq, Ethiopia, Syriac texts and the famed Timbuktu manuscripts. Collections will be added as quickly as cataloging allows.
The collections in vHMML Reading Room are searchable by country, repository, author, language, genre, date, features, city or even writing systems and script.
vHMML Reading Room is one of five components that make up vHMML, HMML's online tools and resources for manuscript studies.
Digital preservation of manuscripts gives scholars access to manuscripts that would otherwise be inaccessible. HMML has been working globally for more five decades to preserve manuscripts. HMML now holds the world's largest collection of resources for the study of manuscript cultures, both east and west. vHMML Reading Room will very soon be the world's largest online collection of manuscript images.
The vHMML team is still working to ensure that the user experience is seamless and consistent, and that metadata is accurate and easily searchable. Because of agreements with owning libraries, you will need to register in an easy, no-cost and one-time process. You can register directly at https://www.vhmml.org/registration.
Tell us about your experience using vHMML Reading Room and vHMML's other resources and take a look at all of vHMML at www.vhmml.org.