Where We're Working: The Pontificio Collegio Armeno, Rome
December 1, 2019
Where We're Working: The Pontificio Collegio Armeno, Rome
HMML began digitization at the Pontificio Collegio Armeno (PCA) in Rome in 2018. The PCA is located in central Rome, near the Quirinal Hill, and adjacent to the Church of San Nicola da Tolentino agli Orti Sallustiani (Saint Nicholas of Tolentino in the Gardens of Sallust). The original seminary or collegio was established in 1584, but closed shortly afterwards. Pope Leo XII resurrected the collegio and granted the presentday site to the Armenian Catholic Patriarchate in 1883. It continues to function as an Armenian Catholic seminary to this day.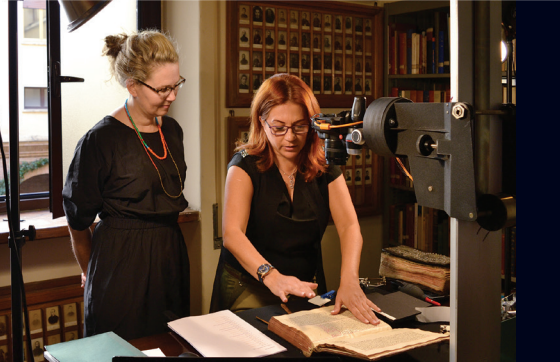 As a collection used to teach seminarians, the Collegio library contains printed books, archives, and manuscripts written in Armenian, Greek, Latin, Syriac, Georgian, and Arabic. The Armenian manuscript collection, the focus of HMML's digitization, includes two separate collections: that of the Collegio Armeno (the Leoniano Collection) and a group of manuscripts originally housed at the Church of San Biagio della Pagnotta. The combined Armenian codices number over 200, dating from the thirteenth to the nineteenth centuries, although the majority are from the latter two centuries. The texts represent a broad range of genres including scriptural, liturgical, historical, polemical, philosophical, scientific, and theological works. In addition to Armenian versions of Roman Catholic theologians and of Greek and Latin liturgical books, there are also texts by Armenian Orthodox authors whose popularity spanned confessional groups.
The majority of the manuscripts of the Collegio collection were donated by individuals who either studied at the Collegio or were associated with it. Many of the manuscripts from the San Biagio collection bear the stamp of Santa Maria Egiziaca in Rome, a church given to Armenian Catholics along with a guesthouse in the sixteenth century by Pope Pius V. Armenian Catholics found refuge at the church in the eighteenth century, after fleeing persecution in the Ottoman Empire; the books they bequeathed formed the core of the collection. While many manuscripts were produced in Italy, particularly Rome, some of the later manuscripts hail from Armenian Catholic centers in eastern Europe and around the Black Sea, in Lvov (Lviv), Trebizond (Trabzon), Crimea, and Transylvania. Likewise, there are a number of devotional books in Armeno-Turkish (Turkish represented in Armenian script), reflecting a Turkish-speaking community with its roots in Constantinople and the Ottoman Empire. Notably, scholar Anna Sirinian has traced the provenance of at least two fifteenth-century illuminated manuscripts to scriptoria in the Vaspurakan region near Lake Van.
The transnational collection bears witness to a community marked by migrations from the Ottoman Empire as well as dynamic interactions with other diasporan Armenian Catholic communities. The digitization work done by HMML will help shed light on this history and make available unique historical resources for scholars and the Armenian public worldwide. Once cataloged, the manuscripts will be available for viewing on HMML's digital library, vHMML.org.
ABOUT THE AUTHOR: Dr. Melissa Moreton was assistant director for strategic initiatives at HMML from 2018 to 2020.