Prof. Getatchew Haile — A Giant In His Field And In The Hearts Of All Who Knew Him
June 21, 2021
Prof. Getatchew Haile — A Giant in His Field and in the Hearts of All Who Knew Him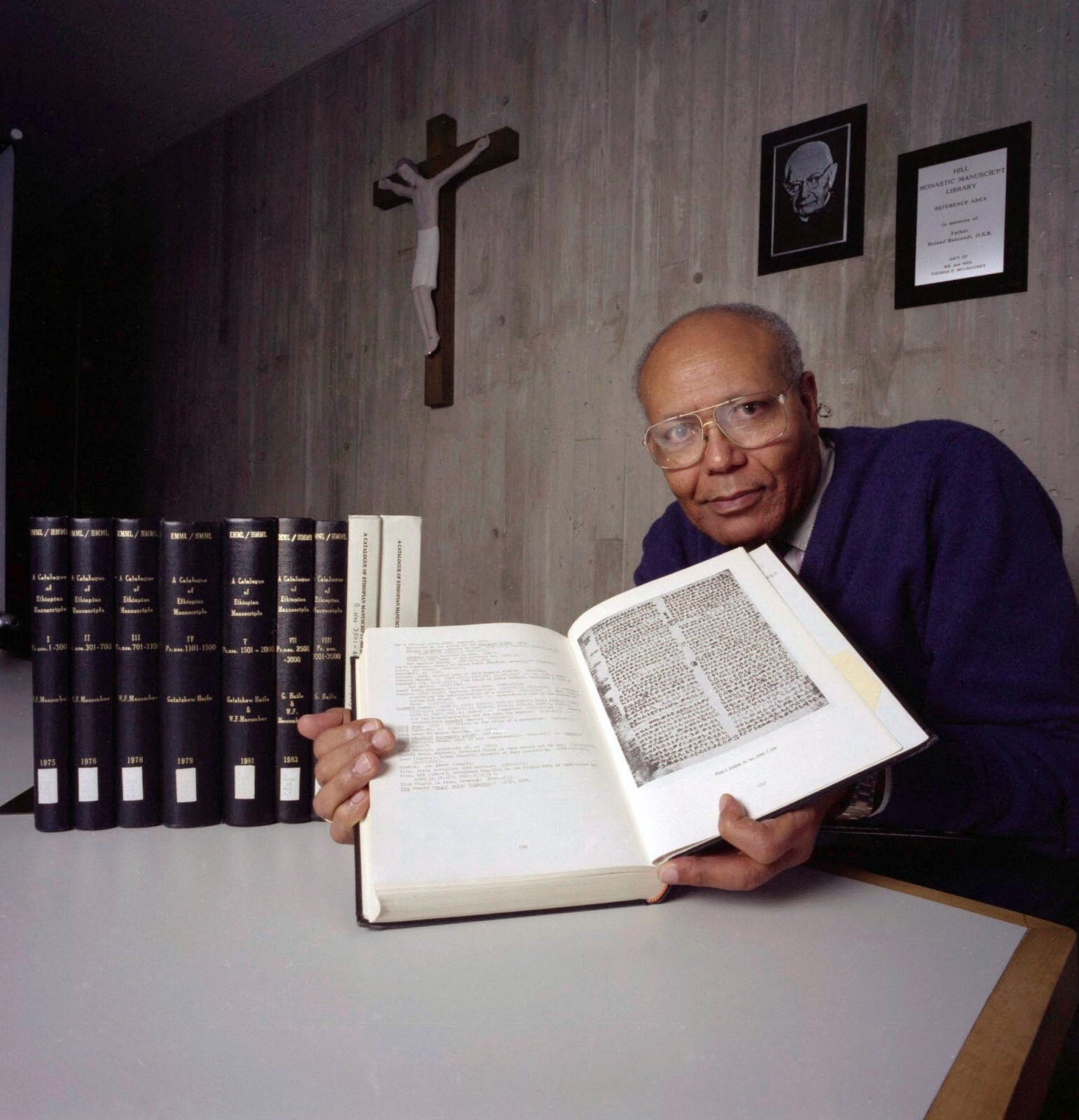 Much has been said about the scholarly achievements of Prof. Getatchew Haile, Regents Professor Emeritus of Medieval Studies at Saint John's University in Collegeville, Minnesota and Curator Emeritus of the Ethiopia Study Center at HMML. Recognized with a MacArthur Fellowship, the Edward Ullendorff Medal from the Council of the British Academy, and elected a Corresponding Fellow of the British Academy, many accolades and honors have underscored Getatchew's notoriety and his contributions to the field of Ethiopian Studies.
To his colleagues at HMML, the broader community of Saint John's, and his neighbors and friends in the Avon Hills area of Central Minnesota, Getatchew was also known as a man whose exceptional kindness and concern for others made everyone feel special, regardless of age, class, or level of education.
Getatchew and his wife, Misrak, came to Minnesota in the mid-1970s. They raised their family in the city of Saint Cloud and later made their home in the Avon Hills, a rural, forested area near Saint John's. When Getatchew's family in Ethiopia asked why he moved from town out to the country, Getatchew said he enjoyed hearing the bleating of the farm animals, because it reminded him of his childhood in rural Ethiopia. At their home in Avon, Getatchew and Misrak were always surrounded by family and extended family, making deep friendships with their neighbors on Kreigle Lake and at Saint John's.
Getatchew's family had a tremendous impact on the community in Central Minnesota. Neighbors loved get-togethers with Misrak and Getatchew, to share a meal, enjoy conversation, and hear stories about Getatchew's student days in Egypt and Germany. They describe him as "an engaging storyteller and often hilarious." Neighbors worked with the family to build a fire pit with which to host goat roasts for everyone to enjoy, a taste of Ethiopia in Minnesota. Inspired by Getatchew, many close friends and neighbors would go on to develop their own connections to Ethiopia, traveling and even working there. Misrak and Getatchew always brought people together. Considered family to many, they became godparents to children of close friends in the area.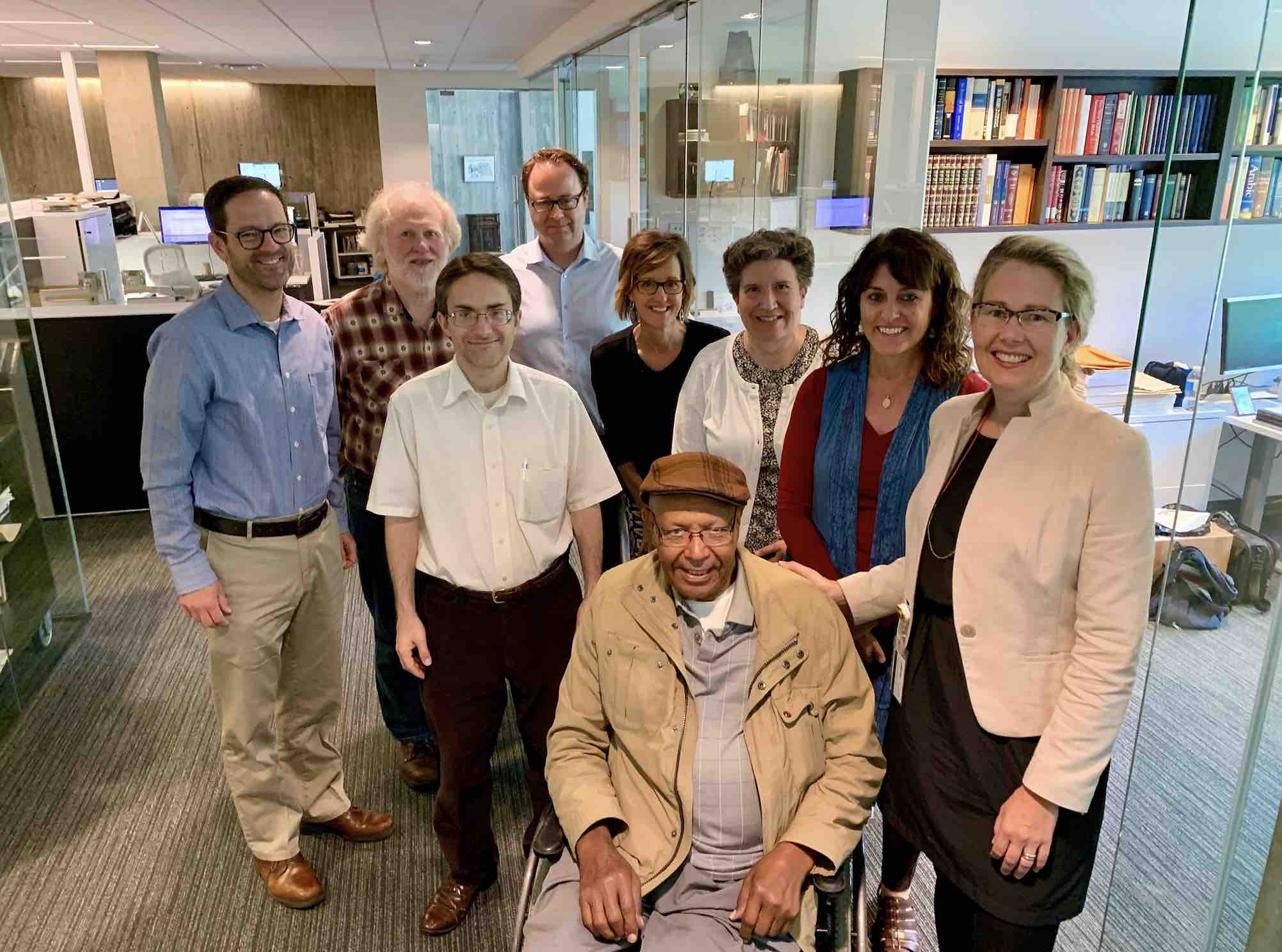 In later years, Getatchew and Misrak moved to New York to be closer to family, but the Kreigle Lake house remained home. They established a tradition of returning to Avon every summer, with the whole neighborhood looking forward to their arrival and children and grandchildren gathering around the 4th of July and Labor Day—swimming, kayaking, running, and lounging on the lake and in the yard and house.
As part of their routine in the earlier years, Misrak would drive Getatchew to HMML for his work with microfilms in the Ethiopian Manuscript Microfilm Library. His impact there was no less significant. Colleagues at HMML recall Getatchew as a true force of nature with a quiet but large presence, a mentor, guide, and friend. He never had a cross word for anyone—patient and kind, with a heart of gold. Many people at HMML saw Getatchew as a fatherly or grandfatherly figure in their own lives.
While completely dedicated to his work, Getatchew always took time to connect on a personal level. When the children of colleagues showed up at HMML—possibly disrupting the flow and focus of his scholarly work—Getatchew greeted them warmly, as if they were his own children. He treated them with the same graciousness he extended to any scholar or visiting dignitary. He was an excellent listener and took genuine interest in each person's life, even when the age gap between them approached 70 years.
The daughter of one HMML colleague said, "He made me feel important during our conversations and never once gave the impression that he had something more important to do than talking to an 8-year-old, although I am positive he did." One colleague treasures a favorite photo of Getatchew with his infant daughter, taken at a baby shower, where Getatchew "holds her as though she were the most precious thing in the world."
Another HMML colleague described him this way: "Prof. Getatchew Haile is a world-renowned linguist and philologist of modern and ancient Ethiopian languages. His list of academic achievements, honors, and awards is endless, and his contribution to Ethiopian Studies is immeasurable. But to me, Getatchew is simply a beautiful friend and I am forever grateful our paths crossed in this lifetime."
Prof. Getatchew Haile died on June 10, 2021 in New York City, with his family by his side. He is buried in the cemetery at Saint John's, surrounded by woods and lakes, and where the sound of a calf or lamb can sometimes be heard from a nearby farm. He will be missed by everyone who had the great fortune to know him as role model, neighbor, colleague, and friend.
ABOUT THE AUTHOR: Joe Rogers was director of external relations at HMML from 2019 to 2022.