HMML Awarded A Major Grant From The National Endowment For The Humanities For vHMML 3.0
August 2, 2017
HMML awarded a major grant from the National Endowment for the Humanities for vHMML 3.0
The National Endowment for the Humanities (NEH) has awarded the Hill Museum & Manuscript Library (HMML) at Saint John's University an outright grant of $323,958 plus $42,430 in matching funds for development of vHMML (Virtual HMML) 3.0, a platform for manuscript studies. vHMML 3.0 will offer users greater discoverability of manuscripts and associated metadata, and an enhanced ability to share data with other scholars and digital humanities projects. HMML was one of 245 recipients nationwide, and its award among the largest of the 27 Digital Humanities Advancement Grants.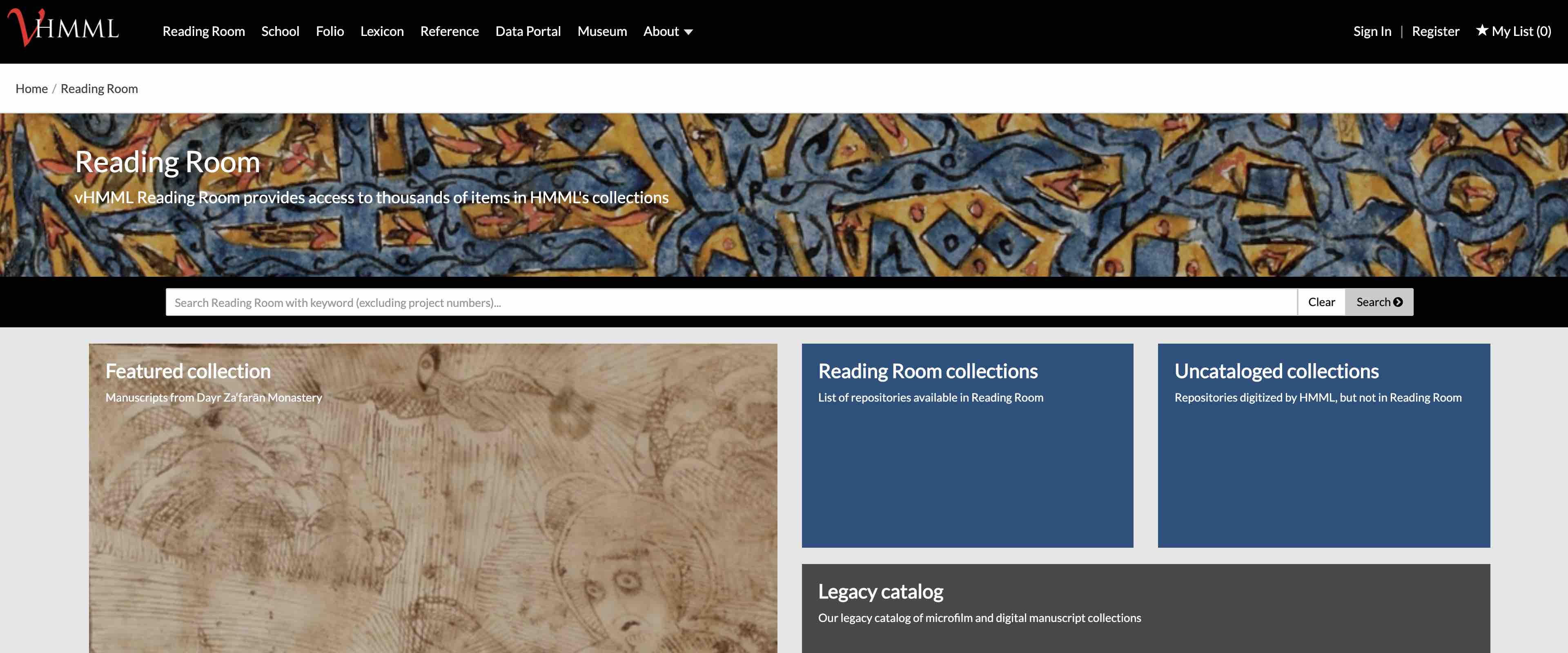 HMML holds the world's largest collection of online resources for the study of manuscript cultures both East and West. vHMML was developed to open that archive to undergraduates, graduate students, scholars, library professionals, and anyone interested in manuscript studies. Launched in 2015, the platform provides resources for learning about manuscripts, discovering new texts, comparing versions of known texts in several languages and tracing the circulation and use of manuscripts across time and cultures.
With the release of vHMML 2.0 in August 2016, HMML launched vHMML Reading Room, making tens of thousands of otherwise inaccessible and often endangered manuscript books and archival documents available to registered users around the world free of charge. vHMML Reading Room's high-resolution, full-color digital and legacy microfilm manuscript collections are searchable by country, repository, author, language, genre, date, features, city or script. Currently, vHMML Reading Room includes over 20,000 complete manuscripts in thirty languages. Collections are added on a weekly basis. Even uncataloged collections are hosted in vHMML Reading Room, lowering barriers to scholarly access.
"NEH grants ensure that Americans around the country have the opportunity to engage with our shared cultural heritage"

- NEH Acting Chairman Jon Parrish Peede
vHMML Reading Room is one of five components that make up vHMML. Each component provides resources for using, understanding and interpreting HMML's manuscript collections. vHMML School offers tutorials in the sciences of paleography and codicology. vHMML Folio provides richly described manuscript pages from communities around the globe and across the ages, highlighting the changing history of scripts in these traditions. vHMML Lexicon introduces terms used in manuscript studies, and vHMML Reference contains bibliographical resources searchable by keyword, title, or author's name.HMML Executive Director Father Columba Stewart, OSB, observed, "vHMML has grown from a suite of online tools for manuscript studies to the world's largest online collection of digitized manuscripts from around the globe. vHMML 3.0 will offer features requested by vHMML users and partner libraries that will ensure easier access to the manuscripts and better tools for sharing discoveries. We are honored that the NEH recognizes the potential for vHMML to transform scholarship across and between manuscript cultures."In 2012, the Institute for Museum and Library Services awarded HMML with initial funding for the development of vHMML, while support for development of vHMML 2.0 came from the Andrew W. Mellon Foundation and the Henry Luce Foundation.
"NEH grants ensure that Americans around the country have the opportunity to engage with our shared cultural heritage," said NEH Acting Chairman Jon Parrish Peede. "From traveling exhibitions and teacher workshops to efforts to preserve local history, these projects demonstrate the power of the humanities to build connections, stimulate discovery, and contribute to vibrant communities."
HMML is a global organization whose mission is to preserve and share the world's manuscript heritage to inspire a deeper understanding of our present and future. HMML is part of Saint John's University in Collegeville, Minnesota. The NEH also awarded HMML a grant of $162,330 that will support a four-week long Summer Institute at HMML for college and university faculty who teach Western and World civilizations. More details on the institute will be released later in August.
Created in 1965 as an independent federal agency, the National Endowment for the Humanities supports research and learning in history, literature, philosophy, and other areas of the humanities by funding selected, peer-reviewed proposals from around the nation. Additional information about the National Endowment for the Humanities and its grant programs is available at: www.neh.gov.