HMML Opens New Exhibition "living Prayer — Prayer Brought To Life, Living Through Prayer"
March 7, 2018
HMML opens new exhibition "Living Prayer — Prayer Brought to Life, Living Through Prayer"
The Hill Museum & Manuscript Library (HMML) at Saint John's University invites guests to experience time differently through its new exhibition, "Living Prayer: Prayer Brought to Life, Living Through Prayer." The exhibition features Books of Hours, Breviaries, and related books and works of art.
The exhibit is free and open to the public in HMML's Reading Room and Alcuin Library's Culhane Gallery now through August 2018. The HMML entrance is located on the lower level of Alcuin Library on the SJU campus; the Reading Room is open during Alcuin Library open hours.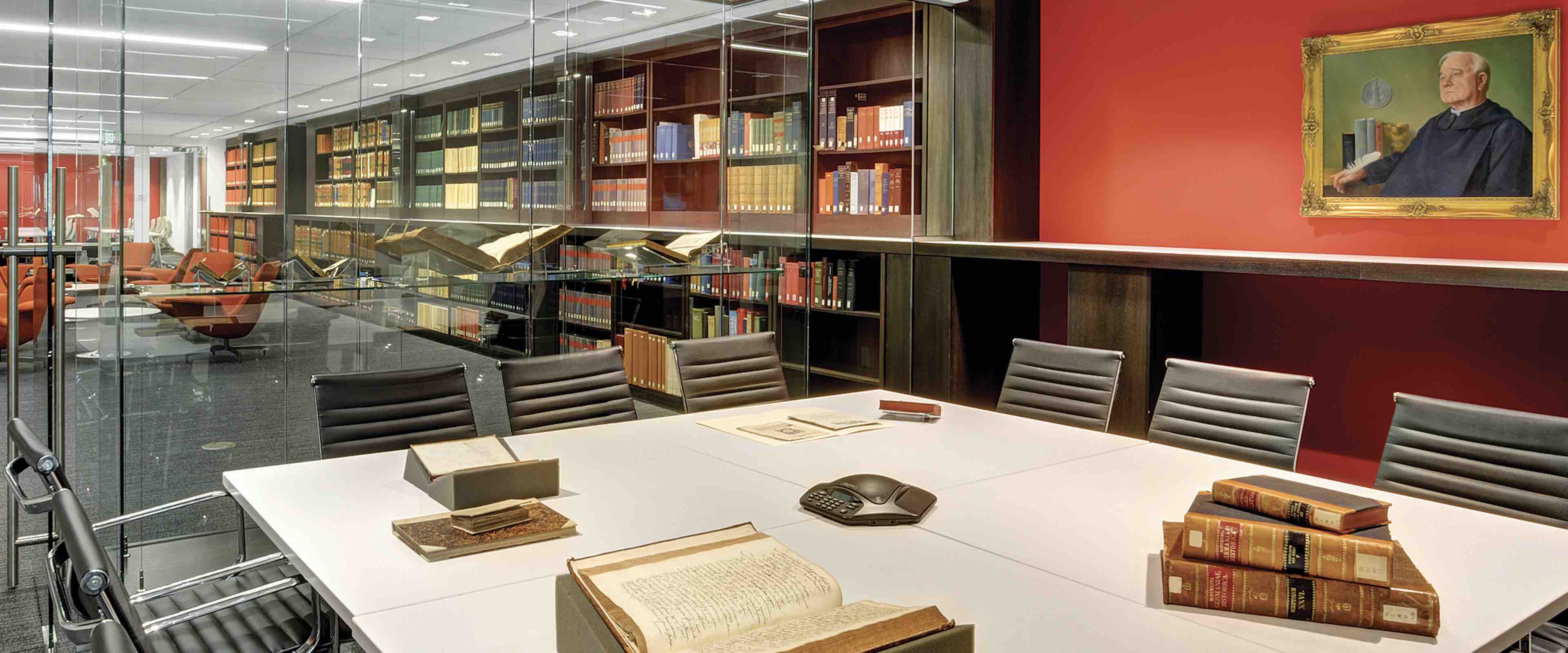 "Living Prayer" introduces an approach to life that is not grounded on modern concepts of time, but rather on the rhythm of a daily routine that calls the believer to pray eight times per day — from Matins to Compline. The display opens in the Culhane Gallery with several Books of Hours — both in manuscript and print — each opened to a different time of day. Complementing this part of the story are two medieval woodcarvings of the Virgin Mary with the baby Jesus.
In HMML's Reading Room one encounters Saint Benedict whose focus on the Psalms formed the Benedictine cycle of prayer known as the Divine Office. To depict this approach to prayer, the exhibition presents monastic and Roman Breviaries, Diurnals, Antiphonals, Martyrologies and related books from the 14th to the 20th centuries.
As the practice of praying the Psalms extends across Christian traditions, there are also horologia in Arabic and Greek, and related books in Church Slavonic and Classical Ethiopic (Ge'ez). Other aspects of monastic and religious prayer are exhibited in the form of music used for the cyclical reading of the Psalms within religious communities.
Those wanting more information about visiting HMML should visit www.hmml.org or call 320-363-3514.
The Hill Museum & Manuscript Library's mission is to identify, digitally photograph, catalog and archive endangered manuscripts belonging to threatened communities around the world. Having formed partnerships with over 540 libraries and archives, HMML has photographically preserved over 250,000 manuscripts from Europe, Africa, the Middle East and India.
HMML is currently preserving manuscript collections in many global sites, including Croatia, India, Lebanon, Iraq, Jerusalem, Egypt, Mali, Malta, Montenegro, Ukraine and Yemen. These resources are available through the recently launched vHMML, at www.vhmml.org, HMML's new online environment for manuscript research. See more at www.hmml.org.