HMML's Malta Study Center Begins New Digitization Project At The National Archives Of Malta
December 10, 2014
HMML'S Malta Study Center Begins New Digitization Project at the National Archives of Malta
The Hill Museum & Manuscript Library's (HMML's) Malta Study Center has signed an agreement with the National Archives of Malta to digitize archival records detailing the civil legal proceedings related to the Roman Inquisition in Malta.
Known as the Officium Civile Sacrae Inquisitionis (OSI) Fond, the collection contains records that date from 1605 to 1798, when the French ended the proceedings of the Roman Inquisition in Malta after their conquest of the island. "Given the increasing academic interest in the history of the Roman Inquisition, The Malta Study Center has made it a priority to preserve the records of the Holy Office," said Dr. Daniel K. Gullo, Joseph S. Micallef Curator of The Malta Study Center.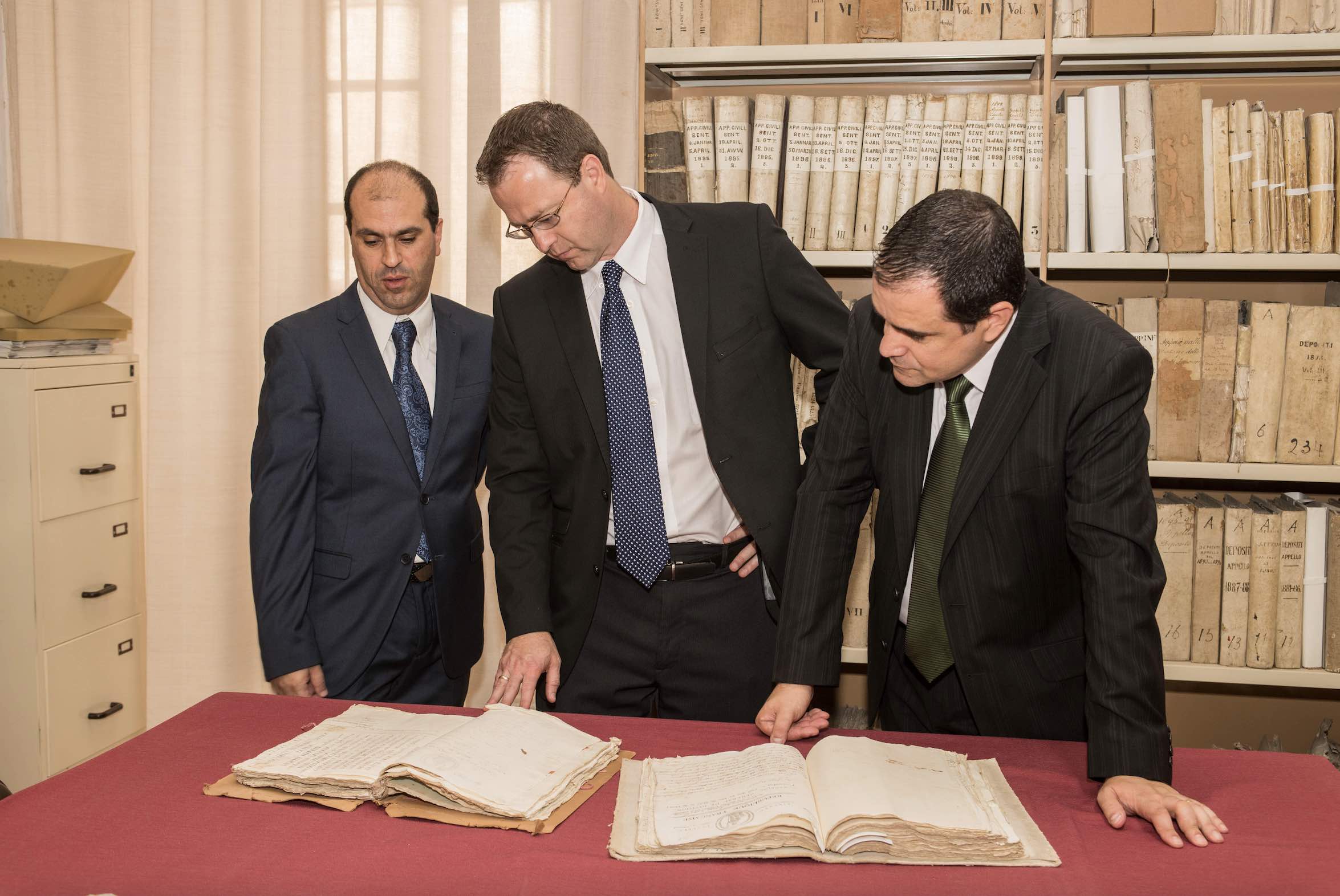 "Digitizing the OSI Fond allows the Malta Study Center to unite the Inquisition's documents held in the National Archives with the larger collection of documents microfilmed by the Malta Study Center at the Cathedral Archives and Museum of Mdina during the 1970s and 1980s. Once digitized, cataloged, and made accessible through HMML's online catalogs, researchers will be able to study these important archival documents of the Roman Inquisition from any location—not just in Malta. It is an honor to continue our collaborative work with Mr. Charles Farrugia, National Archivist of Malta, and the National Archives."
The digitization of the OSI fond at the National Archives marks the third collaboration between the Malta Study Center and the National Archives. The first began in 2007, with the digitization of the Magna Curia Castellania Fond, while the second began earlier in 2014, with an agreement to digitize the Epoca Gallica Fond.
The Malta Study Center was founded in 1973 by Honorary Consul General of Mal­ta-Saint Paul/Minneapolis, Joseph S. Micallef, KMOb. The center sponsors digitization projects to preserve the history of Malta, the Order of Saint John of Jerusalem, and the history of the Crusades. The Center also acquires antiquarian and modern publications dealing with Malta's history, literature and culture.
Since 1965, HMML has formed partnerships with over 540 libraries and archives to photograph more than 140,000 medieval, renaissance and early-modern manuscripts from Europe, Africa, the Middle East and India. One of the world's leading cultural preservation institutions, HMML's mission is to identify, digitally photograph, catalog and archive the contents of endangered manuscripts belonging to threatened communities, and to make these unique cultural resources available to users around the world.
ABOUT THE AUTHOR:
Dr. Daniel K. Gullo
is Joseph S. Micallef Director of the Malta Study Center at HMML.