HMML's Malta Study Center And The James Ford Bell Library Open Exhibition On The Great Siege Of Malta
May 26, 2016
HMML'S Malta Study Center and the James Ford Bell Library Open Exhibition on the Great Siege of Malta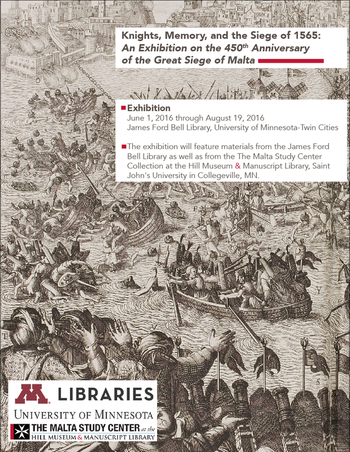 The James Ford Bell Library at the University of Minnesota-Twin Cities will be hosting the Hill Museum & Manuscript Library's Malta Study Center's traveling exhibition, "Knights, Memory, and the Siege of 1565: An Exhibition on the 450th Anniversary of the Great Siege of Malta."
"The Great Siege of Malta of 1565 was a pivotal moment in the history of the Mediterranean, as Ottoman and Western European powers vied for the control of the sea," said Dr. Daniel Gullo, Joseph S. Micallef Curator of the Malta Study Center. "The siege, which ended in the Order of Saint John of Jerusalem's victory over the Turkish forces, provided an enduring sense and memory of resistance, a memory that the Knights and the Maltese would later recall during unsuccessful assaults on the island, including the great Italian and German bombardment of Malta during World War II."
The exhibition features more than twenty original rare books and manuscripts narrating the history of the conflict between the Order of Saint John of Jerusalem and the Ottoman Turks from the 1480 Siege of Rhodes, through the Great Siege of Malta in 1565. Included in the exhibition are letters from the Grand Masters of the Order of Malta, the earliest printed histories of the Great Siege of 1565, and two fifteenth-century printed histories of the 1480 Siege of Rhodes. Items on display come from the James Ford Bell Library and the Special Collections and Rare Books collection at the University of Minnesota and the Malta Study Center Collection at the Hill Museum & Manuscript Library, Saint John's University, Collegeville, Minn.
The exhibition will run from June 1, 2016 through August 19, 2016. The James Ford Bell Library is located on the 4th floor of Wilson Library on the west bank of the University of Minnesota Twin Cities campus. For more information on the exhibition, please contact Dr. Daniel Gullo, Joseph S. Micallef Curator of the Malta Study Center at dgullo@hmml.org, or email the curators of the James Ford Bell Library at jfbell@umn.edu. The exhibition catalog has now been edited and improved for online publication, and we hope you can enjoy some of the fine work done by those who organized the exhibition. Read it online.
The Malta Study Center was founded in 1973 by Honorary Consul General of Malta-Saint Paul/Minneapolis, Joseph S. Micallef, KMOb. The Center sponsors digitization projects to preserve the history of Malta, the Order of Saint John of Jerusalem, and the history of the Crusades. The Center also acquires antiquarian and modern publications about Malta's history, literature and culture. For more information on the project, watch HMML's web (www.hmml.org) and social media sites, and biannual issues of Melitensia.
One of the world's leading cultural preservation institutions, HMML's mission is to identify, digitally photograph, catalog and archive the contents of endangered manuscripts belonging to threatened communities, and to make these unique cultural resources available to users around the world. Since 1965, HMML has partnered with over 540 libraries and archives to photograph more than 140,000 medieval, renaissance and early-modern manuscripts from Europe, Africa, the Middle East and India.
ABOUT THE AUTHOR:
Dr. Daniel K. Gullo
is Joseph S. Micallef Director of the Malta Study Center at HMML.